Developmental Education Success and Retention Specialist
Morton College
in Cicero, Illinois
| | |
| --- | --- |
| Application Deadline | Open until filled |
Category:
Admin - Tutors and Learning Resources

Admin - Student Affairs and Services
Application Due:
Open Until Filled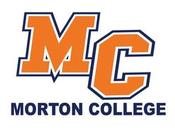 Reports To and Evaluated by: Associate Dean of Arts and Sciences

Required Qualifications
Bachelor's degree with coursework or related experience in education, academic advising, counseling and/or social work.

Experience teaching, training or tutoring in English or Math.

Familiarity with the needs of developmental education students.

Ability to maintain confidentiality.

Must be able to demonstrate the Morton College core values of compassion, fairness, respect, responsibility, tolerance and truth.
Preferred Qualifications
Master's Degree in related discipline (Education, Counseling, Social Work, English, or Math).

Experience working with disadvantaged adults; experience tutoring; familiarity with retention initiatives.
Job Summary
Under the direction of the Associate Dean of Arts and Sciences, the Retention Specialist is responsible for increasing retention for developmental education and transfer students. The Retention Specialist will conduct data analysis to develop retention initiatives. Retention Specialist is dedicated to conducting activities in a manner that promotes student success and lifelong learning. Works closely with the Morton College Arts and Sciences faculty to assure that learning needs are met for the students. Counsels and advises developmental education and transfer students about academic programs; supports students as they progress through the transfer program.
Specific Job Duties
Introduce students to the services provided by the Retention Specialist.

Analyze data involving retention and level gain rates by program, program level, and section.

Develop success and retention initiatives based on data.

Collaborate with the Testing, Tutoring, Student Success, College Study Skills, and Developmental Education units to plan and implement a student transition process that includes opportunities for all students to learn about transfer pathway programs.

Counsel students as needed to assist them in overcoming barriers in their lives.

Academic coaching and tutoring as needed.

Attend required meetings and training sessions.

Submit student attendance records and other paperwork as required.

Introduce students to software programs that meet their educational needs.

Present workshops on various topics as requested.

Perform other duties and special projects as assigned.
Posting Number: P00258PU

Desired Start Date: 07/13/2020

Open Date: 06/02/2020

Open Until Filled: Yes
*Please mention academicjobs.net to employers when applying for this job*