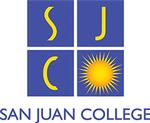 Requisition Number: 1264

Classification Title: Professional

Regular/Temporary: Temporary

Full or Part Time: Part Time

Hours Per Week: Dependent on class availability

Starting Salary: $40.00 an hour

Funding Type: Institutionally Funded

Job Description Summary
Adjunct faculty serve as temporary part-time faculty and are appointed as needed on a semester by semester basis. The primary duty is effective teaching of college-level courses and/or labs in the qualified discipline.
Duties & Responsibilities
The Center for Workforce Development (CWD), at San Juan College is structured to be a customer-guided, hands-on partner to provide professional and technical training needs of our customers. CWD offers first-rate non-credit programs and classes to increase improved performances and outcomes for the participating individuals, organizations, and businesses. Adjunct opportunities come available throughout the year based upon student demand in specific programs, including Information Technology, Human Resources, Workforce Academies, Leadership and other training related topics. In addition to completing this application, please email Joyce Vaughn at vaughnj@sanjuancollege.edu
This position reports to the Dean and is responsible for developing and revising instructional materials; presenting material in an organized manner; evaluating student learning; maintaining student records; teaching day, evening, weekend, and on-line classes, as assigned; teaching at the main and/or satellite campuses, as assigned; maintaining a minimum of 1 office hour per week per assigned course; participating in Adjunct Professional Development activities; demonstrating and promoting the school values of: Innovation, Collaboration, Accountability, Respect and Excellence.
Qualifications
Preference will be given to candidates with prior teaching experience.

Experience with traditional face-to-face, hybrid and online courses and the ability to use San Juan College's Learning Management System (Canvas) as well as technology-enhanced curriculum.

Access to home internet, a personal computer, and telephone is required.

Demonstrates skill and willingness to learn and use multiple technology platforms to communicate with students.
San Juan College is committed to building a diverse faculty and staff, and is an Equal Opportunity Employer. We seek an individual invested in equity and inclusiveness, who has experience with, knowledge of, and sensitivity to the needs of diverse populations.
Open Date: 07/01/2020

Close Date: 06/30/2021

Open Until Filled: No

Starting Date: start dates vary